About the 12 weeks,
In this 12 week program, I will set the 2 main sessions for the Week. These sessions will compliment each other and build you up to your event in 12 weeks. This will be a general program that covers events for Road and Mountain Biking up to 5 hour in duration. I will set your two main sessions and you cover your recovery and Aerobic rides. 1 session will be a specific indoor session and the other performed outdoors or indoors. Remember recover from these session is important. I will let you know each week the gap between each of these JetBlack sessions. Also, these sessions start at a point you should have good bike fitness or a strong base behind you. I suggest you perform a ZONE TEST before you start this program. This way you will get the best results. We will test half way through the program and near the end. Any questions just email me.
Week 9.. Hard week,
HARD
Indoor session
Tuesday or Wednesday
VO2 DEVELOPMENT / SPEED
In this session we really get the intensity up....with big rests
Warm up for a good 20 minutes making sure you get well over your threshold intensity.
Main Set. 8 x 30 sec sprints with a 3 min rest.
Do these from a rolling start (70 rpm) Sprint max effort for 30 seconds , hitting 120 rpm plus. Hold good technique when sprinting. If you need more rest then extend to 4 minutes. We arer after good leg speed. If you find the last 5 to 10 seconds your legs are tying up then use an easier gear.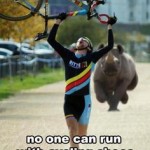 Please do a good 10 to 15minute warm down. Make it very easy.
Session 2
Road
Saturday
Race simulation: As last week
Pair up with a training buddy, Warm up for 20 mins into 6 to 10 x 6 min repeats.
Repeats: One rider dose a 5 min Threshold interval while the second rider sits on his wheel (yelling abuse) at 5 mins the second rider comes through for a 1min max effort Interval. The 1st rider must get into the slip stream and hold his wheel for that minute. Take 6 minutes rest then swap starting positions. Aim for 3 to 4 each on the front. If you cant find a buddy, drop the interval back to 4 minutes into a lamp post sprint (100m) Take 6 minutes recovery
Alternative session:
Club race or
Get a group together, Find a hilly circuit that would take 5 to 10 minutes to complete. Ride this circuit aggressively, attacking on another or attacking your self. Do it so you are never comfortable. Take the amount of time the interval for the rest interval.
This week, Cut back on all Aerobic rides, Especially Sundays. Cut the time by 30 to 40%.