About the 12 weeks,
In this 12 week program, I will set the 2 main sessions for the Week. These sessions will compliment each other and build you up to your event in 12 weeks. This will be a general program that covers events for Road and Mountain Biking up to 5 hour in duration. I will set your two main sessions and you cover your recovery and Aerobic rides. 1 session will be a specific indoor session and the other performed outdoors or indoors. Remember recover from these session is important. I will let you know each week the gap between each of these JetBlack sessions. Also, these sessions start at a point you should have good bike fitness or a strong base behind you. I suggest you perform a ZONE TEST before you start this program. This way you will get the best results. We will test half way through the program and near the end. Any questions just email me.
Week 9.. Recovery / Taper Week
This week we try to get our body ready to race. Drop back all other riding, Watch what you eat and perhaps get a massage.
TAPER
Indoor session
Tuesday or Wednesday
LEG SPEED
This session is about doing it but not hurting the legs too much.
Warm up 10 mins into
1 x 5 sec sprint, 10 sec rest
1 x 10 sec sprint, 20 secs rest
1 x 20 sec sprint, 40 sec rest
1 x 30 sec sprint, 30 sec rest
5 minutes easy ride then
Repeat 2 more times
Finish with 10 minute spin
It's about leg speed, don't use too bigger gear, it will hurt but the efforts are not long enough to accumulate allot of Lactate.
Session 2
Road
Saturday
Club race or Race simulation:
Warm up 20 minutes into 6 to 8 x 100 to 200 m sprints. Pair up with a mate or do these your self. Ride easy for at least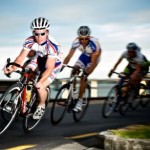 5 minutes between sprints....full recovery