It's black, it's super stiff and it's fast... Yes I'm talking about my new BH ULTRALIGHT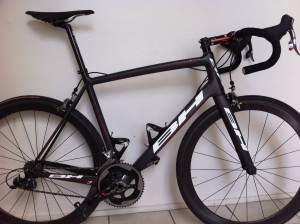 I recently purchased the frameset, as I wanted to spec this puppy myself. As a complete kit, it comes with some crazy compact cranks. You have to question why they put compacts on such a super light race machine. This bike isn't one that you would see a beginner come weekend warrior riding. It has to be those crazy long hills in Europe making the manufacturer compact it out... soft!
I won't talk about the sexy 3T stems, handlebars or bottle cages I decorated the stallion with. Or even the pure crispness and sleek lines of the super stiff SRAM RED components. Or the smoking hot Reynolds 46's I'm rolling, this is all about the frame and the ride!!
I have ridden super light bikes before but always felt like it was too flimsy and felt scared to bare all, for the fear of a prolonged warranty claim. I like a bike where you can feel the road and one that gives you stability and support under normal to extreme riding. When I'm stomping on those pedals out of the seat, driving my hips forward and whipping the bike from side to side, I want the frame to stay rigid under the power. Not too much to ask in a frame?
When descending, I like to have confidence the bike isn't going to drift or chatter around the bends. I know a lot has to do with set up and rider ability but I have to say the BH is the best bike I have not only climbed hills with, but surprisingly the best I have descended on. Point it and you go. Stomp on that outside pedal and she whips around any bend.
As I mentioned, climbing is a breeze. It's not only the weight but more the balance and angles of the bike that make it a mountain goat. You never feel over-biked and you know the energy you are putting into the pedals at 100% is turning into speed going up.
For anyone looking for a stripped down race machine, this black beauty is for you. Not only is it easy on the eye but a high performing machine to match. Go BH and you may never go backwards in the bunch again!